Sapa Church (a catholic church with a stone belltower) is considered the most attractive place for sightseeing in Sapa, Vietnam. Located in the center of the Sapa town, this old church was built in the 20th century by the French colonizers. It is also known as the Church of Our Lady of the Rosary and has become a suitable location for traditional cultural practices of ethnic minority groups there.
Let's find out how this ancient stone church can attract tourists coming to Sapa to admire its unique beauty and history.
I. History of Sapa Church
The ancient Sapa church was built in 1902 by French and placed in a favorable geographical location with the mighty Ham Rong Mountain Range in the backcloth and a flat wide area in front. Standing sturdily for more than one hundred years, this church is the witness of many important historical milestones in Vietnam history.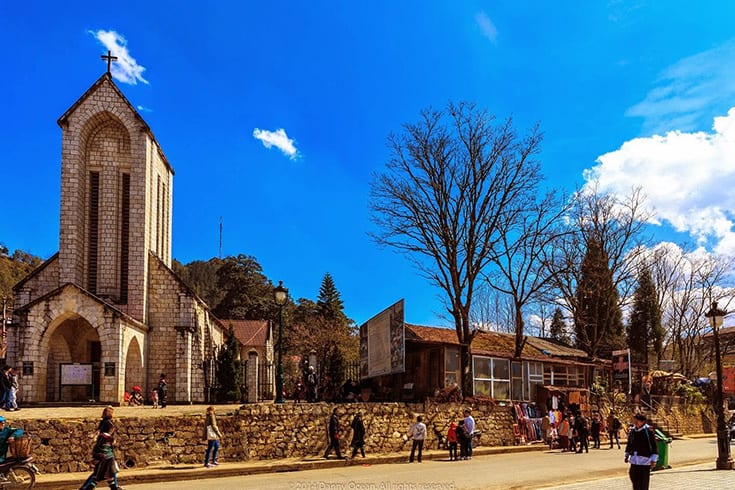 Following historical record, the church was built since 1902, and after 10 years of construction, in 1935 the structure was completed and formally put in use. Then many years later, because of the Japanese troops, the Church was closed and remained suspended in the period of war. After that, the church was used for storing rice and agricultural produce. Until 1995, local governors started to restore this historical witness for the first time and the parish began to come back here to practice their religious ritual.
Because of suffering from natural destruction, the Sapa Stone Church is restored more than 5 times. But, after many times of restoration and reparation, this Church still keeps its intact beauty as the day it was built.
II. Highlights of Sapa Church
1. Architecture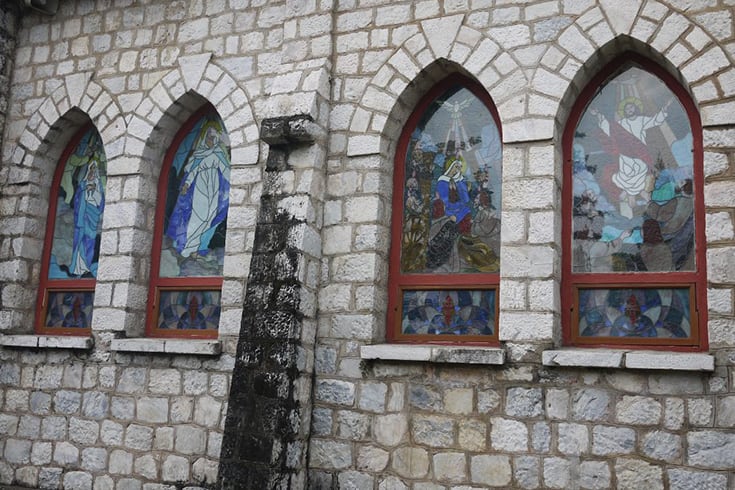 The Sapa Church is built by stones linked by the mixture of sand, molasses, and lime. Inspired by the French architectural style, this church is the only remained structure in Sapa which still preserves the soul and beauty of Catholic Architecture.
The best feature of Sapa Stone Church is the elegant cross-shaped bell tower towards the west – Christ's birthplace. The wall is made of sandstone that sparkles as stalactites forming a very striking natural attractiveness. The ceiling is made of a combination of iron, straw, lime and retains its original beauty as the day the church was built. The windows of this church are decorated with 32 colorful stained glasses that shine in sunlight depicting Jesus's life.
2. Structure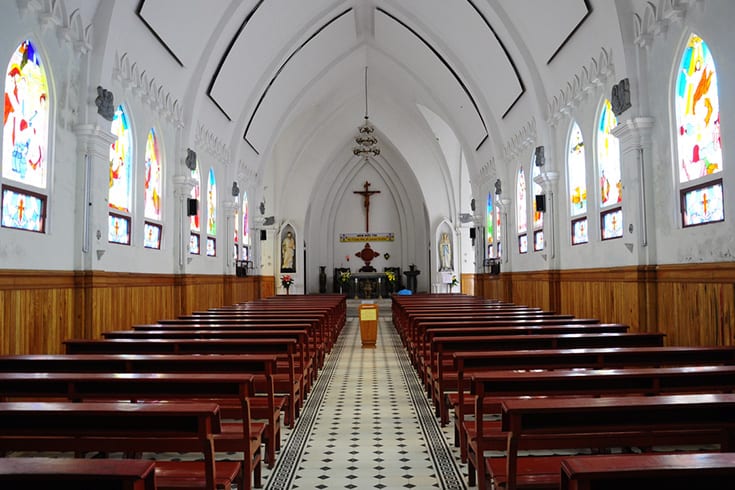 The total area of this church is 6000m2 divided into many compartments such as the church area, the angel house, the parish house, the holy garden… The church site covers more than 500m2 and includes 7 sections with the 20m-high bell tower. Especially, in the bell tower, there is a 500kg-weighed bell which is more than 80-year-olds but remains untouched by the time and damage. The five-section parish house is equal to the church site. The angel house consists of three floors and one basement. The holy garden attracts tourists for 5 big trees which are more than one hundred years old. Four of these trees grow on rocks.
3. Sapa Church Beauty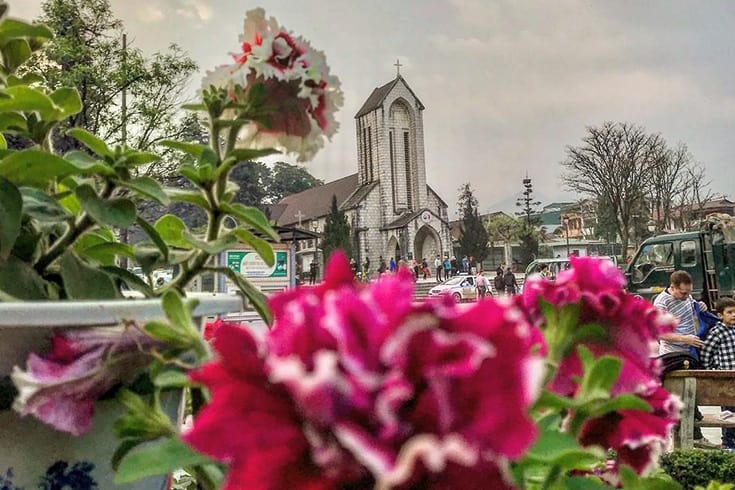 Placed in the heart of Sapa – the city of mists, Sapa Stone Church is a location for traditional activities of local people. Every Saturday, tourists can witness the unique cultural practices which are called 'Love market'. Together with it, there are spiritual activities of ethnic people occurring in this church forming such a holy and faithful atmosphere.
Besides, many quaint buildings are surrounding the Sapa Stone Church that brings more ancient beauty to the Church's landscape making a very unique feature "castle in the sunset". Visitors will be overwhelmed by the magical dim scenery with the dense veil of mist and the Stone Church looming in the mist.
III. What to See and Do at Sapa Church?
1. Sightseeing in Sapa Church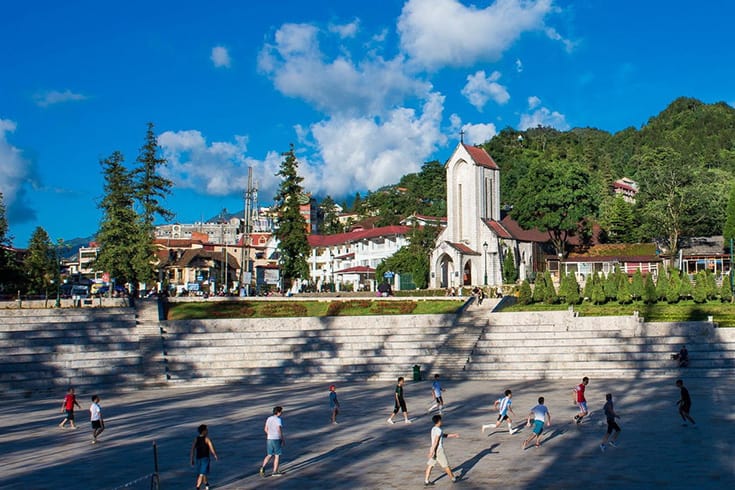 Considered as the vestige of religion and architecture, Sapa Stone Church is the symbol of this misty town. Tourists can easily spot sight of this unique beautiful spot due to its signature and stunning appearance. The church is built by some greatest French architects and imprints the Roman Gothic Architecture. The most outstanding feature of this Cathedral is its main material – the white stone which creates a striking solid look for the church.
Visiting this famous church visitors will have a lot of opportunities to take some beautiful pictures with the stunning background of the Stone Church. Also, sightseeing at this tourist site can be the most enjoyable experience even for difficult tourists.
2. Visiting Love Market at Night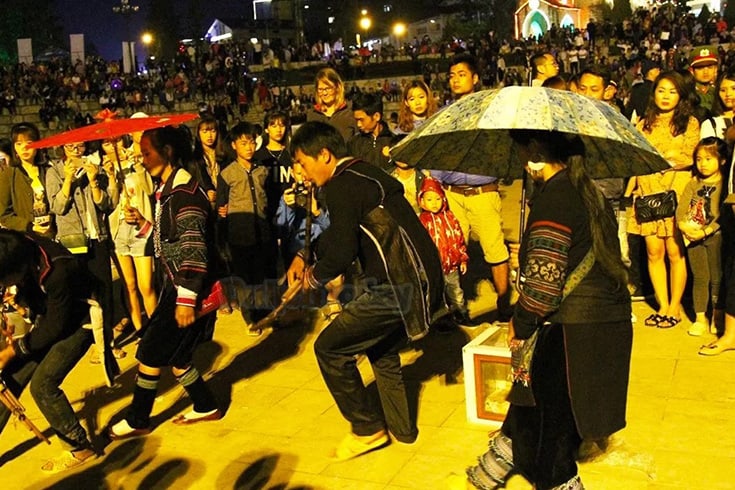 Every Saturday evening, ethnic people come to the courtyard in front of the Sapa Church to seek the potential lover. Local people may participate in many cultural games, sing or dance to show their love and affection.
These activities create a romantic and festive atmosphere expressing their hope for long-lasting love. Therefore in this love market, visitors have a chance to participate in some rare cultural practices of the ethnic group such as wife kidnapping, H'Mong Khen dancing or singing a love song in minority languages. Thus, visiting this tourist attraction is the most unforgettable moment for tourists when they visit the ancient Sapa Church!
3. Joining Traditional Games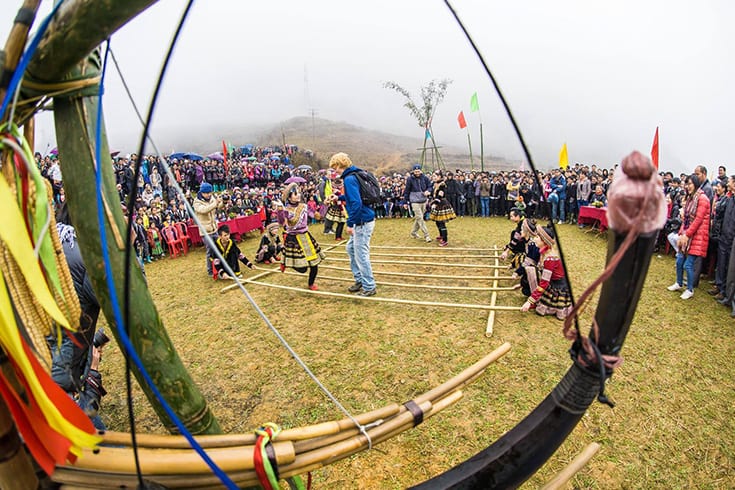 Due to the long distance between villages, ethnic people unite at the courtyard in front of the Sapa Church for social interaction and opportunities for meeting the opposite gender.
On this site, there are a lot of practices for tourists. Tourists can find many traditional sports and activities such as cane wrestling, Pao throwing, Con ball throwing, pushing cane, Tulu, shooting archery, competing for tug… Among many attractions, joining these activities can be the most exciting thing to do.
IV. How to Get to Sapa Church?
There are many ways to get to the ancient stone church from Hanoi. In one way, tourists can take the train from Hanoi station and spend 8 hours on the train to get to Lao Cai province. It is suggested that visitors choose the train which departures at 8-10 pm from Hanoi station to get to Lao Cai Province at around 5-6 am the next morning. Then tourists can take a bus or a taxi from Lao Cai station to Sapa.
Another way to get to Sapa Stone Church is traveling by sleeper buses which usually leave at 7 am or 9 pm. The journey can take about 6 hours and tourists will reach the center of Sapa without any transshipment.
Tourists can also get to Sapa Church by motorbike or private car.
V. Tips on Visiting Sapa Church
Visitors should book their accommodation in advance for affordable hotels in Sapa are quickly booked in the high season.
It is recommended that tourists need to ask for permission before taking photos of local ethnic people.
Tourists should not give money, candy for local children
The best months to visit Sapa Church are April, May, June, September, and October. And tourists are advised to avoid the crowded atmosphere at the weekend.
Like precious jewelry of Sapa, no word can describe the heart-breaking beauty of Sapa Stone Church. With its taciturn nature, this cathedral is still hiding many unknown enigmatic secrets that await for tourists to visit and discover! So why not visit Sapa and experience the real beauty of this special place? It is time to pack your case, book a tour then enjoy the most memorable adventure with your loved ones! And don't forget to share your experience with us. We thank you for any contributing ideas about this topic.